COVID Notice

We here at Rusty's RV Ranch are still open to the public. The well-being of our residents, guests, and employees is a top priority. Please observe the following requirements:

All credit card reservations should be pre-paid over the phone.

Upon arrival, please stay in your vehicle, and we will lead you to your site.

Other payment methods may be used at the time of arrival in the Office.

Face masks required, see below.

Please arrive before 5:00 PM New Mexico Time.

Face masks required

NOTE: At this time, the state of NM requires that all persons wear a face mask when in public indoor spaces or entering a place of business — clear face shields are not a valid substitute for a cloth face mask. Please see the NM Policies for Prevention and Control of COVID-19 update for more details.
Part of the charm of Rusty's RV Ranch is the quiet and remote location that affords dark skies, abundant wildlife watching, and outdoor activities. However, this also means that grocery stores, pharmacies, and medical facilities are not right around the corner. We suggest that you make sure that you have plenty of food and essentials before arriving so that you may better enjoy your visit.
As the circumstances continue to evolve, we feel it's important to connect directly with you to share information. We continue to monitor the situation and are taking guidance from county health professionals and the Centers for Disease Control.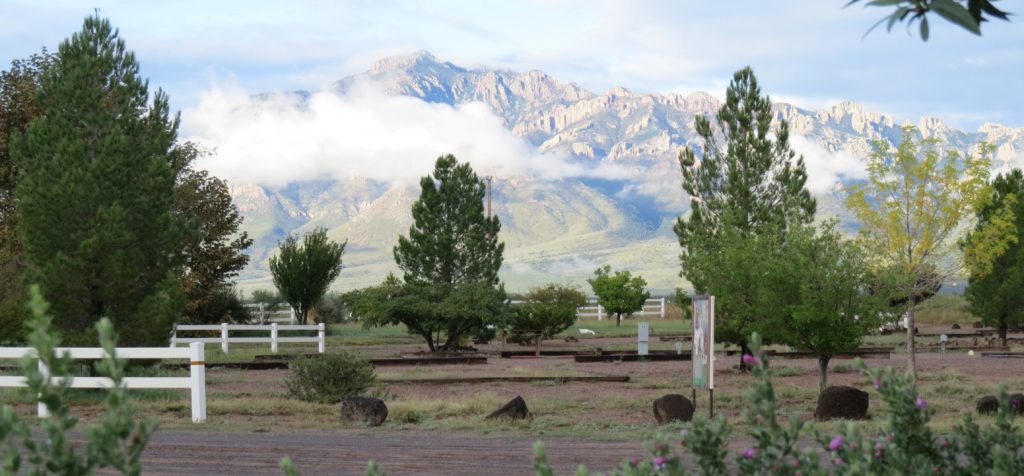 Located 6 miles North of Rodeo, NM, on historic Route 80, Rusty's RV Ranch is nestled between the Peloncillo and Chiricahua Mountain Ranges with 360* views. Whether you only stop in for a few nights or want to put out the wheel chocks and stay awhile, we've got you covered. Our 200′ long pull-thru sites with full hook-ups can accommodate even the largest of BIG RIGS. Our on-site guest amenities are available 24 hours a day.
People come from all over to experience this area that is steeped in history, rich in wilderness, and has some of the darkest night skies you will find in the world.
575-557-2526
At an elevation of 4124 feet, our Summer weather is milder than most desert destinations. We rarely break 100 degrees and at least 10 degrees cooler than Tucson, AZ. Enjoy year-round activities like hiking, biking, birding, geocaching, hunting, and miles off-road trails for your ATV or Jeep.
We have a large dog park, complete with comfortable seating in the shade, and we offer over 2 miles of walking trails in the park. You can even use one of our courtesy bicycles to navigate our paths.
After your day of fun and adventure, take a dip in our heated swim spa or enjoy a relaxing evening watching the stars.